UPDATE Nelson County Life Magazine HERE
Morning Low at NCL-Nelson County Life Magazine in the Rockkfish Valley : 24.6°
Morning Low at NCL-Wintergreen Nature Foundation on Devil's Knob @ Wintergreen Mountain : 7.3°

Click the image above for the ski and slope conditions at Wintergreen Resort.
DON'T WANT TO READ THE FORECAST? SIT BACK & LISTEN BY PRESSING THE PLAY BUTTON BELOW (some users may need to click play button twice)

Weathercast by Tommy Stafford, Nelson County Life Magazine

Photography By Hayley Osborne
For Nelson County Life Magazine ©2007
Masked Ball @ Veritas Winery
Afton, Virginia

By now the champaign bottles should be put away and minds on the year to come. Our Hayley Osborne shot the pictures above at Veritas' Masked Ball on New Year's Eve as they rang in the 2008. You can see more of those pics here and other celebrations here.
Weather Watcher report from Wintergreen Mountain:
John Taylor wrote:
Great weather for the snowmakers! At 8:15 am it's windy, 11.8F, overcast, and we
had a light dusting of snow over night. There is some minor fog near the ski
area with clear skies directly above. They have been making snow since
yesterday — Highlands getting some of that.
2007 had several weather surprises up it's sleeve and now that we have our own NCL-Weathernet Stations scattered all over the county, we finally are able to look at some of the data coming from those stations. Here's a few of the numbers. We'll be adding the other NCL stations annual data throughout the coming week:
NCL-Nelson County Life Magazine – Greenfield / Afton, Virginia
Yearly High: 103° on August 3, 2007
Yearly Low : 16° on December 16, 2007
Wind Gust : 37 MPH on March 22, 2007
Rain Total : 22.68 for the year

NCL-Wintergreen Nature Foundation : Devil's Knob Virginia : Wintergreen Mountain
Yearly High: 91° on August 25, 2007
Yearly Low : 8° on December 6, 2007
Wind Gust : 110 MPH on March 5, 2007
Rain Total : 39.10 for the year
Before we get into the forecast, for those of you wanting to check out the current slope conditions be sure to click on the Wintergreen logo up above.
New Year's Day was fairly quiet across the area, but gusty winds sure made it feel chilly for much of the afternoon. At the office here in the Rockfish valley, we had gusts to around 20 MPH. On the mountain at our Devil's Knob station they logged a 25 MPH gust. That's going to be the real story over the next 48 hours as the gusty winds continue Wednesday driving wind chills down to zero or below from time to time. We'll see a chance of light snow Wednesday morning. Can't even rule out a light dusting east of the BRP, but this won't be much of a system. Way back west near the VA-WV state line winter and heavy snow warnings were posted for more significant snowstorms. By Wednesday afternoon skies become partly to mostly sunny with very cold temps and gusty winds.
Look for low temps Wednesday night to be in the mid teens to near 20° valley, and around 4-7 degrees on the mountains. If we make it there, that will be the coldest weather of the winter season thus far. Brrrrrrrrrrrrrrrrrrr! By the weekend we begin a warm up into the mid & upper 50's valley and mid 40's to lower 50's mountains.
The National Current Surface Map via wunderground

Over the next 24 hours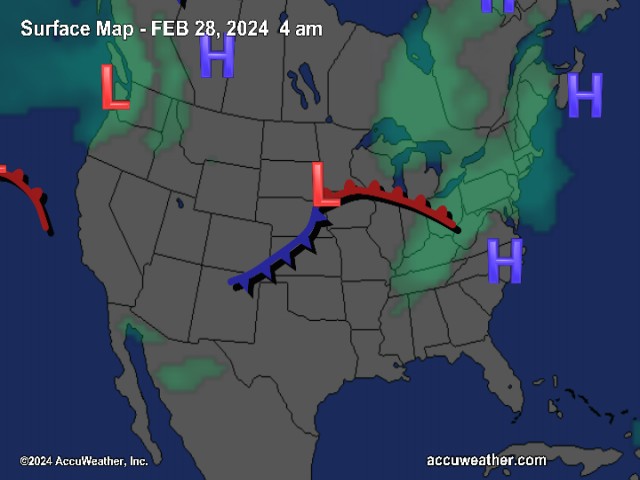 And for those of you keeping score at home check the detailed numbers at any of our reporting NCL-Weathernet Stations for real up to the minute live weather data and detailed information including highs, lows, wind speeds, rainfall and much, much more, simply use the handy drop down menu on the upper left hand side of your screen.
Your Nelson County Life custom area forecast including: Arrington, Piney River, Crozet and Faber.
Wednesday: Mostly cloudy morning with light snow possible, then partly sunny, continued windy! Wind Chill near zero mountains.
* Highs Valley: 40-43°
*On the mountains: 24-27° Light snow accumulation possible, better chances west slopes of BRP
*Winds: NE 15-25 gusting to 35.
Wednesday night: Clear & very cold.
* Lows Valley: 14-17° Wind chill near 0° or below by Thursday morning
*On the mountains: 6-9° Wind chills below 0° from time to time.
*Winds: NW 10-15 MPH
Thursday: Sunny and continued cold & blustry
* Highs Valley: 36-39° Wind chill near 5-15° above from time to time
*On the mountains: 24-27° Wind chill near 7-12° from time to time
*Winds: NW 5-10 MPH
The remainder of the week: Friday , sunny & slightly warmer with highs in the mid 40's valley and around 40° mountains. By the weekend temps warm even more to near 50° Saturday and 55° Sunday in the valley, slightly cooler mountains. By the start of next week look for even warmer weather with afternoon highs around 60° on Monday.
Breaking News, Breaking Weather we'll have it all here!
Have a great Wednesday!
Know your Nelson.COM