REFRESH Nelson County Life Magazine HERE for the latest updates:
Weathercast by Tommy Stafford, Nelson County Life Magazine
Text Updated 8:40 AM EST for sleet moving through area.
PRESS THE PLAY ARROW BELOW FOR AUDIO VERSION OF FORECAST (some users may need to click play button twice)

Photography by Tommy Stafford
Nelson County Life Magazine ©2007
Discovery Center Nears Completition
Wintergreen Mountain
Devil's Knob, Virginia

I was upon Devil's Knob yesterday talking to the Tim Merrick and Julie Benner with Wintergreen Real Estate's Discovery Center. It's within days of opening and folks it's a very nice place! It'll have the Black Bear Cafe inside with great gourmet coffee, along with sandwiches and soups all day from breakfast through dinner, and wi-fi wireless internet! There'll be more coming out about this in the next few days, but their open house is December 28th from 3-5 PM. We'll see you there!
There will be some light freezing precip move through the area this morning. Most of this is sleet. Surfaces in the valley are just above freezing, but there could be some light accumulation on the mountains.

Tuesday was a pretty uneventful day. For the most part it was sunny, but a thin layer of clouds moved in by afternoon keeping things cool, but not cold. We reached a high here in the valley of 47 degrees at NCL-Nelson County Life Magazine. Last night was not as cold as the previous night. We didn't see any of those teens, like those we saw on Tuesday morning since the clouds kept the temps up.
Today will be a mostly cloudy day. We'll see some peeks of sun, but nothing to get too excited over. I can't even rule out a stray snow shower up in the mountains, but again nothing to care about. There is a chance of snow or sleet early Friday morning and then again Friday night perhaps mixed with some light freezing rain, but the system is looking less impressive now than yesterday. It looks like better chances for just plain rain over the weekend, but again not a widespread event that would squash any weekend plans.
I really want to look at the models that come out Wednesday night to get a better handle on this, but right now none of it looks impressive unless something dramatically changes.

The National Current Surface Map via wunderground

Over the next 24 hours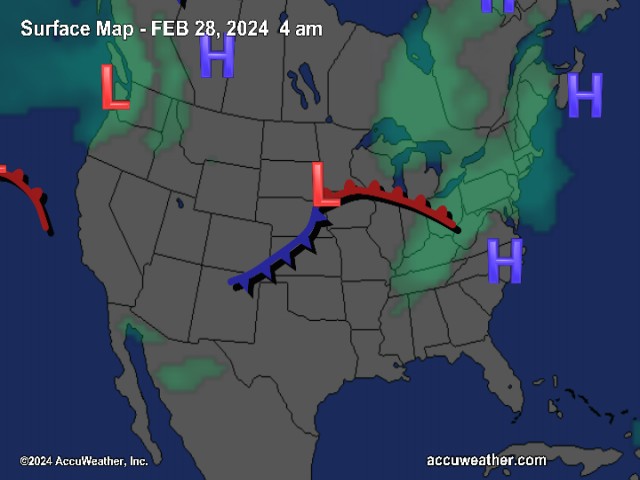 And for those of you keeping score at home check the detailed numbers below at any of our reporting NCL-Weathernet Stations for real up to the minute live weather data and detailed information including highs, lows, wind speeds, rainfall and much, much more.
*NCL-Nelson County Life Magazine : Greenfield / Afton, VA
*NCL-Wintergreen Nature Foundation : Devil's Knob, VA
*NCL-Wintergreen Winery @ the foot of Wintergreen Mountain in Beech Grove, VA
*NCL-Hatcreek Farm on Horseshoe Mountain : Roseland, VA
*NCL-Delfosse Winery & Vineyard : Faber, Va
*NCL-Tiger Fuel : Lovingston, VA
*NCL-Mini Tara Vineyards : Arrington, VA
*Covesville Store : Covesville, VA
Your Nelson County Life custom area forecast including: Devil's Knob, Afton, Massies Mill, & Roseland
*Today Mostly Cloudy & cool some light sleet possible this morning.
*Highs Valley: 46-49°
*On the mountains: 37-40°
Winds: SW 5-10 MPH
Tonight Mostly cloudy early, then becoming mostly clear and cold.
* Lows Valley: 24-27°
*On the mountains: 22-25°
*Winds: W-5 MPH
Tomorrow Partly sunny and seasonal.
* Highs Valley: 48-51°
*On the mountains: 40-43°
*Winds: NE-5 MPH becoming SE in the afternoon
Tomorrow night Mostly cloudy with scattered snow flurries or sleet possible near daylight.
* Lows Valley: 29-32°
*On the mountains: 26-29°
*Winds: Light & Variable
The remainder of the week Friday, light snow and sleet early, then changing to freezing rain at night. Saturday through Sunday look rainy from time to time with a slight chance of snow on Saturday night mountains, though temps may not make it low enough at this point. Temperatures are generally 40's for daytime highs and low and mid 30's for overnight lows, with the mountains slightly colder. We reach mid 50's by Sunday in the valley.
Breaking news, breaking weather, whatever the case, we'll have it all here.
Have a great Wednesday!
Know your Nelson.COM
-T-
Outro music bed: Linus & Lucy, A Charlie Brown Christmas, Vince Guaraldi Trio – Fantasy Records – Berkley, California – 1988 – 1950, 1952