REFRESH Nelson County Life Magazine HERE for the latest updates:
Weathercast by Tommy Stafford, Nelson County Life Magazine
PRESS THE PLAY ARROW BELOW FOR AUDIO VERSION OF FORECAST (some users may need to click play button twice)

Photography by Tommy Stafford
Nelson County Life Magazine ©2007
Clouds in the Valley
Nellysford, Virginia

Monday was a big contrast to the weekend. The winds settled down for the most part Monday afternoon, though we didn't warm up very much. In the valley it only reached the mid 40's for about 30 minutes then began falling. Upon the mountain at NCL-Wintergreen Nature Foundation the temps never made it above freezing. They topped out at a cold 27.7 degrees for a Monday high.
Last night it was another cold one with mid teens to low 20's for everyone. NCL-Nelson County Life Magazine here in Greenfield reached a low of 15.8 degrees, while NCL-Wintergreen Nature Foundation upon Devil's Knob had a low of 17.8° Over at NCL-Hatcreek Farm Horseshoe Mountain, they had a morning low of 17.6° Today will be a bit warmer as winds kick around to the south bringing in slightly milder air. Not a big warm up, but a touch warmer than yesterday. The mountain should make it briefly above freezing into the upper 30's by afternoon.
Tonight we'll see increasing clouds which will help keep it warmer than last night. Wednesday will be partly sunny and seasonal. Thursday we'll see chances for rain, sleet & snow in the forecast overnight. Right now it looks like we have even less moisture than last weekend's system had to work with, so I am not impressed with this one yet, but stay tuned!

The National Current Surface Map via wunderground

Over the next 24 hours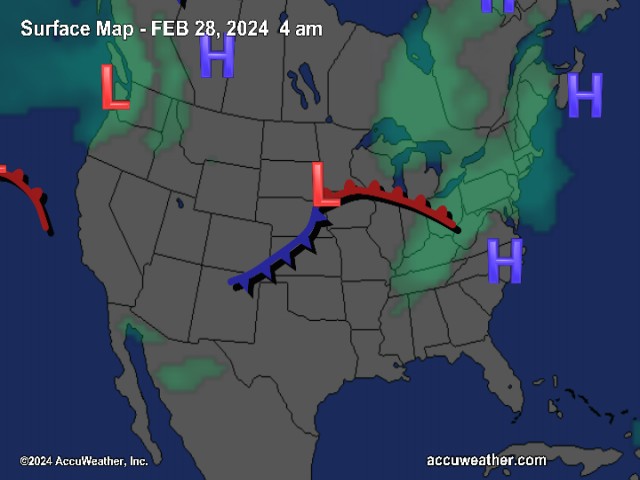 And for those of you keeping score at home check the detailed numbers below at any of our reporting NCL-Weathernet Stations for real up to the minute live weather data and detailed information including highs, lows, wind speeds, rainfall and much, much more.
*NCL-Nelson County Life Magazine : Greenfield / Afton, VA
*NCL-Wintergreen Nature Foundation : Devil's Knob, VA
*NCL-Wintergreen Winery @ the foot of Wintergreen Mountain in Beech Grove, VA
*NCL-Hatcreek Farm on Horseshoe Mountain : Roseland, VA
*NCL-Delfosse Winery & Vineyard : Faber, Va
*NCL-Tiger Fuel : Lovingston, VA
*NCL-Mini Tara Vineyards : Arrington, VA
*Covesville Store : Covesville, VA
Your Nelson County Life custom area forecast including: Beech Grove, Tyro, & Hickory Creek
*Today Sunny & Milder.
*Highs Valley: 47-50°
*On the mountains: 36-39°
Winds: S 5-10 MPH
Tonight Becoming mostly cloudy and not quite as cold.
* Lows Valley: 26-29°
*On the mountains: 24-27°
*Winds: SW-5 MPH
Tomorrow Mostly cloudy early then partly sunny by afternoon.
* Highs Valley: 48-51°
*On the mountains: 40-43°
*Winds: SW-5 MPH
Tomorrow night Partly cloudy, again, not as cold.
* Lows Valley: 28-31°
*On the mountains: 26-29°
*Winds: SW-5 MPH becoming L & V late
The remainder of the week By Thursday night chances for snow, sleet & rain enter the forecast. Friday snow and sleet early then changing to rain before ending. Saturday through Sunday look rainy from time to time with a slight chance of snow on Saturday night, though temps may not make it low enough at this point. Temperatures are generally 40's for daytime highs and low and mid 30's for overnight lows, with the mountains slightly colder.
Breaking news, breaking weather, whatever the case, we'll have it all here.
Have a great Tuesday!
Know your Nelson.COM
-T-
Outro music bed: The Christmas Song, Nat King Cole, Authors: Torme/Wells, 1961, 2005 Capitol Records