REFRESH Nelson County Life Magazine HERE for the latest updates:
Weathercast by Tommy Stafford, Nelson County Life Magazine
Updated 5:00 PM EST
AUDIO VERSION OF FORECAST (some users may need to click play button twice)

The areas in brown are Winter Weather Advisories. Nelson has been downgraded from a Winter Storm Watch.
The areas in purple, including Amherst, are Ice Storm Warnings.
The areas in pink, including Augusta, are Winter Storm Warnings.
Areas in Lavender color indicated Freezing Rain Advisory.
The skies have finally opened up and light rain began falling Saturday afternoon just before dark. Upon the mountain, NCL Weather Watcher, John Taylor sent us this note about the weather up there:
Subject: WG WX
Date: December 15, 2007 4:14:07 PM EST
To: weather -at- nelsoncountylife.com

John Taylor wrote:
Foggy, misty, occasion light rain here on top. 24 degrees. Roads just now
getting slick — reports of Blue Ridge Drive (near golf and condos) starting to
ice — but they have units out working.
You can check out all of the various Winter Storm / Advisories and Ice Storm Warnings by checking out the graphic above and clicking on the associated hyperlinks that are highlighted. As just mentioned, much of the day higher elevations have been seeing freezing rain and sleet on the mountains. The temperature at NCL-Wintergreen Nature Foundation hovered around the 20° mark for most of the day, while valley temps hung around the mid 30's. Obviously on the mountains they are the most prone to more serious icing because of the temperatures. You can see the estimated ice & snowfall amounts in the lower graphics for the next several hours. As I mentioned in earlier updates, this unfortunately appears to be more of an icing event vs a snow event. There's going to be a critical period from roughly 6 PM Saturday until 6AM Sunday where we could pick up some ice.
There's a period in there where valley temperatures may briefly dip to or slightly below freezing, but then rebound after midnight. Dewpoints in the valley are in the mid 20's right now, so we could drop temperature wise to around 30° or so as the air moistens up. (Air temperatures can never drop below the dewpoint, so that is a good indicator as to how low the temps can drop – when dewpoint and temps are the same you have 100% humidity or saturation = rain or some kind of precip) That would allow for a few hours of icing as the rain moves in. On the mountains, you are already getting freezing rain and are essentially under a Winter Storm Warning until 1PM Sunday. The actual line ends at Augusta and the converts to a Winter Weather Advisory in Nelson, but since the Blue Ridge Parkway, Wintergreen, and Montebello all are on that BRP ridge, that skews things a bit.
Again, the bottom line on it all. Look for rain to begin changing to freezing rain in the valley of Nelson. The mountains stand to have the greatest impact from this event. Little snow is going to fall there. As of 5:00 PM as this forecast was being prepared, our NCL-Nelson County Life Weathernet station is indicating 33.6°. About a 1 degree drop in the past hour. We should hit the freezing mark in the next few hours and hover there until after midnight. That's when temps should begin rising again and inch above the freezing mark. Look for this to last much longer on the mountains since they are much much colder there.
This will linger into the early morning daylight hours Sunday, then look for sunny conditions to return by afternoon. It will be very windy with speeds gusting to 50+ MPH on the mountains and around 40 MPH at times in the valley.
Should conditions worsen overnight I will be updating here with any bulletins, road conditions, and the like.

The National Current Surface Map via wunderground

Over the next 24 hours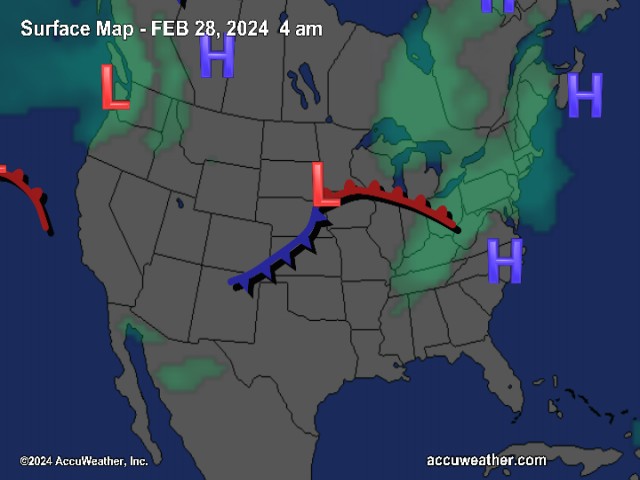 And for those of you keeping score at home check the detailed numbers below at any of our reporting NCL-Weathernet Stations for real up to the minute live weather data and detailed information including highs, lows, wind speeds, rainfall and much, much more.
*NCL-Nelson County Life Magazine : Greenfield / Afton, VA
*NCL-Wintergreen Nature Foundation : Devil's Knob, VA
*NCL-Wintergreen Winery @ the foot of Wintergreen Mountain in Beech Grove, VA
*NCL-Hatcreek Farm on Horseshoe Mountain : Roseland, VA
*NCL-Delfosse Winery & Vineyard : Faber, Va
*NCL-Tiger Fuel : Lovingston, VA
*NCL-Mini Tara Vineyards : Arrington, VA
*Covesville Store : Covesville, VA
Your Nelson County Life custom area forecast including: Wintergreen, Lovingston, & Tyro
Tonight Winter Weather Advisory until 7 AM – snow, sleet, and freezing rain, eventually changing to rain after midnight.
* Lows Valley: 30-33° then slowly rising after midnight.
*On the mountains: 21-24° – Winter Storm Warning until 1PM Sunday : Sleet and freezing rain likely, 1/4 inch ice accumulations possible. Temps rising after midnight then rain.
*Winds: NE 10-15 MPH
Sunday Winter Weather Advisory expires 7AM – Light freezing rain early then sunny by afternoon. Windy & cold.
* Highs Valley: 44-47°
*On the mountains: 30-33° Winter Storm Warning until 1PM – Rain and freezing rain early then partly sunny afternoon. Windy & cold, with snow showers
*Winds: NW 15-25 MPH by afternoon with gusts to 40 MPH valley and 50 MPH mountains.
Sunday night Partly cloudy, windy and colder with valley lows mid 20's and mountains upper teens to near 20. Again gusty winds to near 40 MPH early decreasing to 15-20 MPH after midnight with gusts to near 30 MPH.
The start of next week continues cold, but sunny with valley highs in the mid 40's and mountains low 30's with occasional gusty winds.
There's a chance of rain back in the forecast by Thursday.
Again, continue to check back here often for the latest updates.
Breaking news, breaking weather, whatever the case, we'll have it all here.
Have a great Weekend!
Know your Nelson.COM
-T-