REFRESH Nelson County Life Magazine HERE for the latest updates:
Weathercast by Tommy Stafford, Nelson County Life Magazine
AUDIO VERSION OF FORECAST (some users may need to click play button twice)

Winter Storm Watch area counties highlighted in blue. Ice Storm Warnings in purple.
Update: Fri, Dec. 14, 2007 at 3:15:30 pm EST
Snow prediction graphics via AccuWeather.com
We went from the feeling of the tropics to the tundra in about 24 hours as cold has moved back into Central Virginia, Before I get too far into all of the winter weather talk today, let me say a good morning to Helen, Louise and Alice Ferrall over in Batesville. Their mom, Elizabeth, tells me they have been hanging on our every word here in the NCL forecast center… okay, well more like a desk with a beagle asleep on the couch, but anyway … They have been looking every morning as the storm develops for our area and are wanting to know what everyone else does, will it snow?
It is becoming clearer as to how the winter storm will affect our area and we certainly will be able to define it as we go throughout the day today. I will be updating the information today and issuing new forecasts throughout the weekend as the storm progresses.
I wish I has better news, but it appears that our area could see more of an icing event vs snow, in particular in the valley. The mountains will see their share of it as well, but there is a better chance to see snow in the upper levels. It all boils down to how much warm air is aloft when the moisture arrives. I am pretty confident we will have freezing temperatures here at the surface, (Saturday night) but if the moisture falls down here as rain, you know what happens when it hits the surface, ice! As we go through Friday it will become more clear as to what conditions will be in place. As I mentioned yesterday and Wednesday, the bulk of the energy appears to be headed for NE of Virginia, but we should see a a significant winter event, at least from weather data available now.
Friday will be a fantastic day with sunny skies and mild temperatures, but clouds roll in Friday night in advance of snow, sleet and freezing rain that will start Saturday. We'll see chances of frozen precip Saturday morning, but it will increase in intensity Saturday afternoon and Saturday night. The most likely time for intense snow, sleet and freezing rain is from roughly 3PM Saturday afternoon through Sunday morning. That's not to say we won't see it before that, but it is most likely to become intense in that time frame.
Right now I still see nothing that would prevent at least a fairly significant icing event, and as far as snow goes, 1-3 inches seems reasonable at the moment, but again I will update this later today.

The National Current Surface Map via wunderground

Over the next 24 hours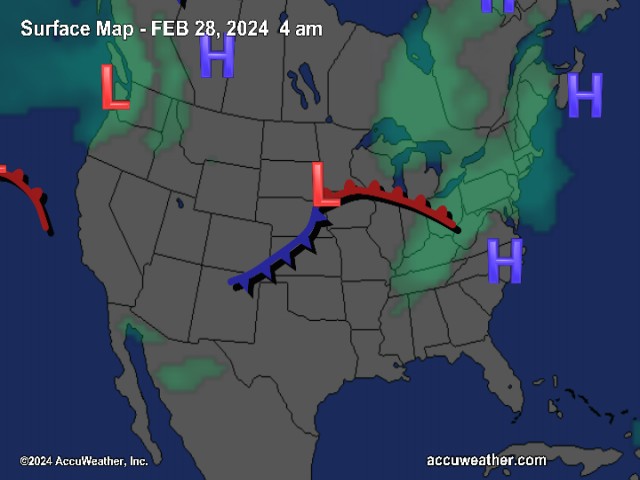 And for those of you keeping score at home check the detailed numbers below at any of our reporting NCL-Weathernet Stations for real up to the minute live weather data and detailed information including highs, lows, wind speeds, rainfall and much, much more.
*NCL-Nelson County Life Magazine : Greenfield / Afton, VA
*NCL-Wintergreen Nature Foundation : Devil's Knob, VA
*NCL-Wintergreen Winery @ the foot of Wintergreen Mountain in Beech Grove, VA
*NCL-Hatcreek Farm on Horseshoe Mountain : Roseland, VA
*NCL-Delfosse Winery & Vineyard : Faber, Va
*NCL-Tiger Fuel : Lovingston, VA
*NCL-Mini Tara Vineyards : Arrington, VA
*Covesville Store : Covesville, VA
Your Nelson County Life custom area forecast including: Wintergreen at Black Rock Market, Faber at Delfosse Winery & The Arrington Post Office
*Today Sunny and pleasant.
* Highs Valley: 54-57°
*On the mountains: 44-47°
*Winds: SW-5 MPH
Tonight Partly cloudy early evening then mostly cloudy late.
* Lows Valley: 31-34°
*On the mountains: 24-27°
*Winds: N 5-10 MPH
Saturday Cloudy with rain, freezing rain and sleet developing by afternoon.
* Highs Valley: 36-39°
*On the mountains: 29-32° Snow, sleet, and freezing rain developing
*Winds: NE 5-10 MPH
Saturday night Rain, freezing rain and sleet likely. Significant ice accumulation possible.
* Lows Valley: 29-32°
*On the mountains: 24-27° – Snow sleet and freezing rain likely, significant accumulations possible
*Winds: NE 5-10 MPH
Sunday Rain, freezing rain, and snow likely in the morning, tapering off in the afternoon and becoming very windy – High Sun valley near 40° – On the mountains: Lower 30's
Sunday night Partly cloudy and colder with valley lows low 20's and mountains mid teens.
The start of next week continues cold, but sunny with valley highs in the low 40's and mountains mid 30's
Again, continue to check back here often for the latest updates on the developing winter storm this weekend. Any change in the path of this storm can dramatically affect what kind and how much wintry weather we get.
Breaking news, breaking weather, whatever the case, we'll have it all here.
Have a great Friday!
Know your Nelson.COM
-T-