REFRESH Nelson County Life Magazine HERE for the latest updates:
Weathercast by Tommy Stafford, Nelson County Life Magazine
AUDIO VERSION OF FORECAST (some users may need to click play button twice)

Photography by Ann Strober
For Nelson County Life Magazine ©2007
Baby Hawk on the Fence
Nellysford, Virginia

Monday definitely didn't feel at all like late Fall or early Winter, and today won't feel much like it either. A perfect day for the little fellow above to bask in the warm day. Our faithful reader Ann Strober of Nellysford sent this one in recently. If you've been reading our site for very long, you've seen many of the neat pictures Ann sends along from time to time. We appreciate all of your nice work Ann!
Though skies remained cloudy most of the day Monday, we still managed to make it to the low 70's in the valley and the low 60's upon the mountain at Wintergreen. We have an area of moderate temps in the region and it will remain here for much of the week until a cold front makes it through by Thursday evening. A stationary front will remain across Virginia for most of that time keeping on and off again chances for rain for the week.
Dynamics change by the weekend giving us a chance for snow Saturday night. That's still way to far out to predict with any accuracy, but there is the chance.

The National Current Surface Map via wunderground

Over the next 24 hours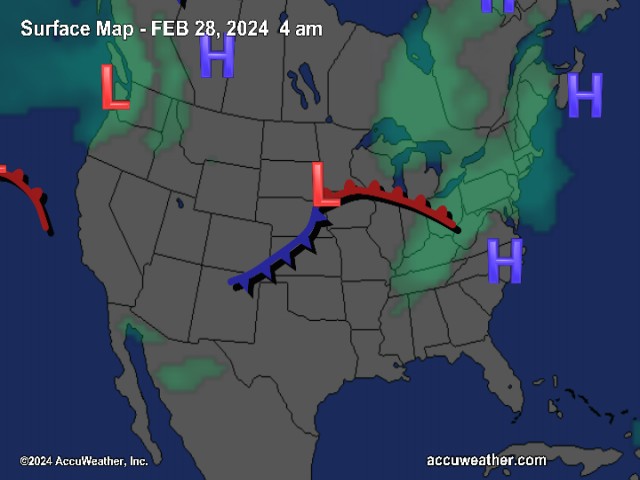 Regional Radar look via Wundergound.com

And for those of you keeping score at home check the detailed numbers below at any of our reporting NCL-Weathernet Stations for real up to the minute live weather data and detailed information including highs, lows, wind speeds, rainfall and much, much more.
*NCL-Nelson County Life Magazine : Greenfield / Afton, VA
*NCL-Wintergreen Nature Foundation : Devil's Knob, VA
*NCL-Wintergreen Winery @ the foot of Wintergreen Mountain in Beech Grove, VA
*NCL-Hatcreek Farm on Horseshoe Mountain : Roseland, VA
*NCL-Delfosse Winery & Vineyard : Faber, Va
*NCL-Tiger Fuel : Lovingston, VA
*NCL-Mini Tara Vineyards : Arrington, VA
*Covesville Store : Covesville, VA
Your Nelson County Life custom area forecast including: Nellysford, Tyro & Love
*Today Mostly Cloudy with isolated showers in the morning. Mild
*Highs Valley: 67-70°
*On the mountains: 60-63°
Winds: SW 5-10 MPH
Tonight Continued mostly cloudy with sprinkles.
* Lows Valley: 47-50°
*On the mountains: 46-49°
Winds: SW 10-15 MPH
Tomorrow Continued cloudy with scattered showers across 30% of the area.
* Highs Valley: 68-71°
*On the mountains: 56-59°
Winds: SW 5-10 MPH becoming NE in the afternoon
Tomorrow night Cloudy with scattered showers. A bit cooler
* Lows Valley: 42-45°
*On the mountains: 36-39°
Winds: NE 5-10
The remainder of the week looks much the same until we reach Friday when a frontal boundary will move through clearing skies and dropping temperatures to more seasonal normals. That chance of snow move in the forecast by Saturday.
Breaking news, breaking weather, whatever the case, we'll have it all here.
Have a great Tuesday!
Know your Nelson.COM
-T-