REFRESH Nelson County Life Magazine HERE for the latest updates:
Weathercast by Tommy Stafford, Nelson County Life Magazine
AUDIO VERSION OF FORECAST (some users may need to click play button twice)

Photography by Yvette Stafford
Nelson County Life Magazine ©2007
Volunteers Give the Best Christmas Gift Ever
Afton, Virginia

We're just a couple of weeks away from Christmas Day and some folks up in Afton are giving the best Christmas gift ever this year. Clyde and Ruth Terry lost their entire home to fire about two weeks ago. Now their fellow fire and rescue family from The Rockfish Valley Volunteer Fire Department, along with friends are pitching in to rebuild their home. They may not make it quite in time for Christmas Day, but they won't miss it by much. You can read the entire heartwarming story Yvette covered Sunday by clicking here or simply scrolling down.
Temperature wise the weather has been perfect for doing construction. Sunday's afternoon high here at NCL-Nelson County Life Magazine in Greenfield reached a Spring like 62 degrees. Not so good if you like winter weather. We'll certainly be taking a vacation from freezing temps for most of this week. By week's end we'll see a return to more seasonal temperatures for this time of year. The next several days will be unsettled weather thanks to a stationary front in the area with plenty of clouds and showers from time to time. No one period will see any large amounts of rain, but we will see showers most anytime between now and Thursday. By next weekend we may actually be talking about snow chances once again in the mountains.
Before we move on, lots of things took place this past weekend in Nelson, be sure to check out the topics under Recent Posts to your left to check them all out.

The National Current Surface Map via wunderground

Over the next 24 hours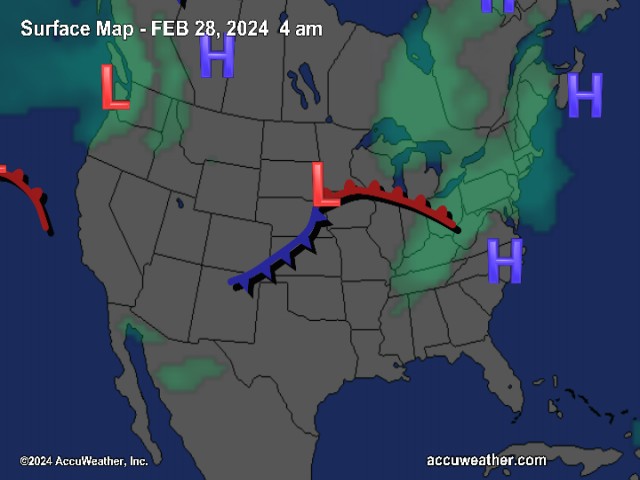 Regional Radar look via Wundergound.com

And for those of you keeping score at home check the detailed numbers below at any of our reporting NCL-Weathernet Stations for real up to the minute live weather data and detailed information including highs, lows, wind speeds, rainfall and much, much more.
*NCL-Nelson County Life Magazine : Greenfield / Afton, VA
*NCL-Wintergreen Nature Foundation : Devil's Knob, VA
*NCL-Wintergreen Winery @ the foot of Wintergreen Mountain in Beech Grove, VA
*NCL-Hatcreek Farm on Horseshoe Mountain : Roseland, VA
*NCL-Delfosse Winery & Vineyard : Faber, Va
*NCL-Tiger Fuel : Lovingston, VA
*NCL-Mini Tara Vineyards : Arrington, VA
*Covesville Store : Covesville, VA
Your Nelson County Life Magazine custom area forecast including: Afton, Piney River & The AT
*Today Mostly Cloudy with scattered showers across 40% of the area.
*Highs Valley: 64-67°
*On the mountains: 60-63°
Winds: SW 10-15 MPH
Tonight Continued mostly cloudy with a slight chance of scattered showers.
* Lows Valley: 43-46°
*On the mountains: 40-43°
Winds: NE 5-7 MPH
Tomorrow Continued cloudy with scattered showers across 30% of the area.
* Highs Valley: 54-57°
*On the mountains: 53-55°
Winds: E 5-10 MPH becoming S in the afternoon
Tomorrow night Cloudy with light sprinkles possible valley and mountains.
* Lows Valley: 46-49°
*On the mountains: 42-45°
Winds: SW 5-10
The remainder of the week looks much the same until we reach Friday when a frontal boundary will move through clearing skies and dropping temperatures to more seasonal normals. There's a chance of snow mountains by Saturday.
Breaking news, breaking weather, whatever the case, we'll have it all here.
Have a great Monday!
Know your Nelson.COM
-T-