REFRESH Nelson County Life Magazine HERE for the latest updates:
Click here to subscribe to RSS feeds for automatic updates to our site.
Weathercast by Tommy Stafford, Nelson County Life Magazine
AUDIO VERSION OF FORECAST (some users may need to click play button twice)

Photography by Tommy Stafford
Nelson County Life Magazine ©2007
Coffee House Construction Begins : The Village at Glen Mary
Beech Grove, Virginia

After lots of waiting and lots of dirt work, Steve Crandall of Tectonics II, is starting the process of what will eventually become the restaurant & brewery side of The Village at Glen Mary in Beech Grove. That's along Route 664 on the way to Wintergreen Resort. This week Steve's crews began reassembling the old Arrington Train Depot, originally built in 1870. Eventually the building will be a coffee / sandwich shop combination as a part of The Village at Glen Mary. "We'll have a deck out on the back and you'll be able to sit right there with a view of Three Ridges, "says Steve. The old depot is the first phase of construction where Nelson's next micro brewery will be located in the coming months as construction progresses. You can see many more pictures at the site by clicking here.

Before we get into the weekend forecast we want to remind everyone that ski season officially kicks off Saturday at 9:00 AM at Wintergreen Resort. They have been making snow all week long and so far it looks great on the mountaintop! AND, we want to send out a thank you to David Hall in Stoney Creek. David left us a message saying that he and several others listen to, and read, our daily custom weathercasts here at NCL. We appreciate the compliments – and you stopping by each morning!
Can you say cold? It has been over the past couple of days. Thursday morning's low at NCL-Wintergreen Nature Foundation was a bone chilling 7.5 degrees just before sunrise. Even in the valley it was cold with morning lows in the low 20's here at NCL-Nelson County Life Magazine. Friday morning equally as cold with very low readings upon the mountains and in the valley as well. Click on the links below the maps to see the actual overnight low readings.
The weekend promises to be more forgiving temperature wise with very mild readings by the time we get to Sunday and Monday. A series of disturbances will keep lots of clouds in the area starting Friday into the weekend, with some light snow possible Friday morning and afternoon. More widespread rain develops Sunday afternoon extending through much of next week. Temperatures cool down again by next Thursday.
One final thing, don't forget The RVCC Pancake Breakfast Saturday December 9th at 8:30 AM immediately followed by The Holiday Community Market. It starts at 9 AM and runs all day until 4 PM. Click right here to get all of the details! See you there!

The National Current Surface Map via wunderground

Over the next 24 hours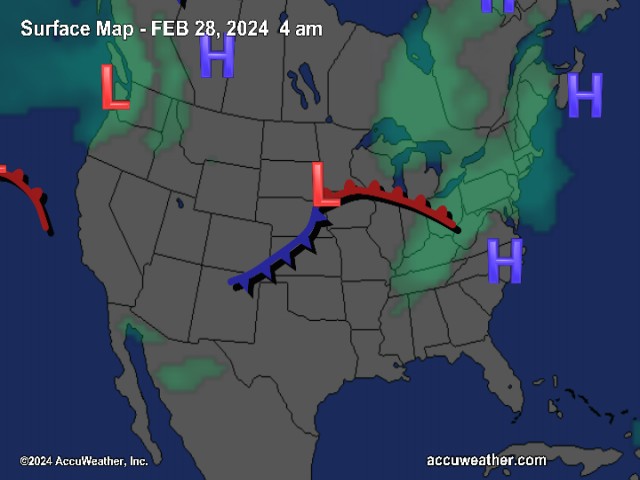 Regional Radar look via Wundergound.com

And for those of you keeping score at home check the detailed numbers below at any of our reporting NCL-Weathernet Stations for real up to the minute live weather data and detailed information including highs, lows, wind speeds, rainfall and much, much more.
*NCL-Nelson County Life Magazine : Greenfield / Afton, VA
*NCL-Wintergreen Nature Foundation : Devil's Knob, VA
*NCL-Wintergreen Winery @ the foot of Wintergreen Mountain in Beech Grove, VA
*NCL-Hatcreek Farm on Horseshoe Mountain : Roseland, VA
*NCL-Delfosse Winery & Vineyard : Faber, Va
*NCL-Tiger Fuel : Lovingston, VA
*NCL-Mini Tara Vineyards : Arrington, VA
*Covesville Store : Covesville, VA
Your Nelson County Life Magazine custom area forecast including: Beech Grove, Afton & Wintergreen Resort
*Today Mostly cloudy and not as cold. Light snow showers possible early, then again late in the day, little to no accumulation, better chances mountains.
*Highs Valley: 43-46°
*On the mountains: 39-42°
Winds: SW 5-10 gusts to 20 MPH
Tonight Cloudy with a chance of light rain or snow, snow showers in the mountains with little accumulation.
* Lows Valley: 33-36°
*On the mountains: 28-31°
Winds: SW 5-10 gusts to 15 MPH
Saturday Cloudy with a chance of very light showers valley & mountains.
* Highs Valley: 53-56°
*On the mountains: 42-45°
Winds: NW-5 MPH
Saturday night Cloudy with light sprinkles possible valley and mountains. Possibly mixed with flurries mountains.
* Lows Valley: 36-39°
*On the mountains: 33-35°
Winds: NE-5 MPH
Sunday Cloudy with a chance of scattered showers
* Highs Valley: 59-62°
*On the mountains: 53-55°
Winds: Light SE
Temperatures stay in the lower 60's valley on Monday with scattered showers continuing.
Breaking news, breaking weather, whatever the case, we'll have it all here.
Have a great Weekend!
Know your Nelson.COM
-T-