REFRESH Nelson County Life Magazine HERE for the latest updates:
Weathercast by Tommy Stafford, Nelson County Life Magazine
AUDIO VERSION OF FORECAST (some users may need to click play button twice)

Photography by Hayley Osborne
Nelson County Life Magazine : © 2007
Lovingston Christmas Parade
Lovingston, Virginia

The rain this weekend didn't stop folks from turning out for the annual Lovngston Christmas Parade this past Sunday. And our Hayley Osborne was out there getting the shots despite the rain and the crutches! Not to worry, Hayley is getting better and recovering well, though she's hard to keep still for very long!
It certainly began feeling like winter weather and Christmas yesterday when those cold winds began blowing in. Even last night the winds stayed up but did begin dying out after midnight. It will still be breezy today but nothing like we saw yesterday. Most of the high winds gusts were confined to the mid 30's MPH. NCL-Wintergreen Nature Foundation recorded a gust of 35.3 MPH, this morning it was very cold there with a low in the teens. While NCL-Delfosse Vineyard & Winery recorded a gust of 33 MPH. All of the other NCL stations were around 30 MPH. There were higher gusts, but confined west and north of the BRP. Today the winds will still be breezy, but on their way to settling down late this afternoon and evening. Snow is in the forecast tonight especially up on the mountains. It continues in the forecast Wednesday and Wednesday night. Right now it looks like a dusting of snow in the valley with up to an inch at Wintergreen and along the BRP by the time it ends on Wednesday night. This doesn't appear to be a significant system right now, but a nice prelude to winter.
By the weekend, temps warm just a bit and there's a chance of showers by Friday. Temps Sat & Sun will be mainly in the low 50's. Speaking of the weekend, there's lots taking place holiday wise. Don't forget the monthly RVCC pancake breakfast was moved just this month to Sat Dec 8th and it's followed immediately by the Holiday Community Market held at RVCC. There also a big celebration by six of Nelson's wineries and our newest member, Blue Mountain Brewery. You can see all of the details by clicking on the Datebook category and using the keyword December to see those and many other events coming up this month.
The National Current Surface Map via wunderground

Over the next 24 hours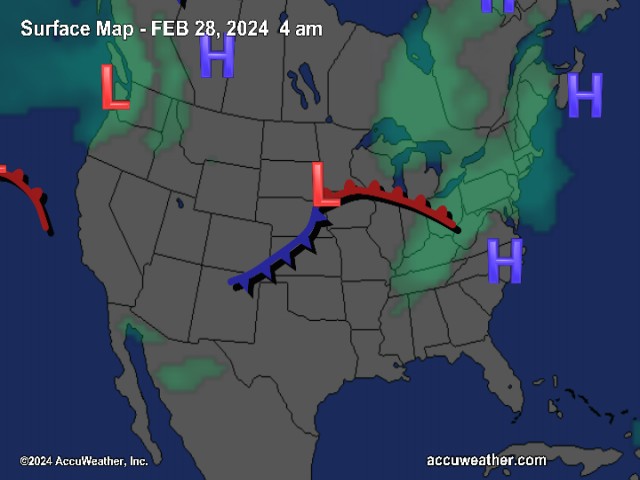 Regional Radar look via Wundergound.com

And for those of you keeping score at home check the detailed numbers below at any of our reporting NCL-Weathernet Stations for real up to the minute live weather data and detailed information including highs, lows, wind speeds, rainfall and much, much more.
*NCL-Nelson County Life Magazine : Greenfield / Afton, VA
*NCL-Wintergreen Nature Foundation : Devil's Knob, VA
*NCL-Wintergreen Winery @ the foot of Wintergreen Mountain in Beech Grove, VA
*NCL-Hatcreek Farm on Horseshoe Mountain : Roseland, VA
*NCL-Delfosse Winery & Vineyard : Faber, Va
*NCL-Tiger Fuel : Lovingston, VA
*NCL-Mini Tara Vineyards : Arrington, VA
*Covesville Store : Covesville, VA
Your Nelson County Life custom area forecast including: Lovingston, Greenwood & Arrington
*Today Mostly sunny and chilly. Breezy, winds diminishing by dark.
*Highs Valley: 47-50°
*On the mountains: 34-37°
Winds: W 10-15 MPH with gusts to 35 MPH
Tonight Becoming cloudy with light snow developing after midnight over 30% of the area. Better chances mountains.
* Lows Valley: 27-30°
*On the mountains: 26-29° Little snow accumulation possible
Winds: W-5 MPH
Tomorrow Continued cloudy and cold with snow mountains and a rain snow mix in the valley over 40% of the area.
* Highs Valley: 37-40°
*On the mountains: 33-35° Snow accumulation around an inch
Winds: S-5 MPH
Tomorrow night Cloudy with a chance of snow showers early evening, clearing after midnight.
* Lows Valley: 26-29°
*On the mountains: 21-24°
Winds: NW-5 MPH
Looking ahead to Thursday Sunny and cold. Highs in the valley 39-42° – on the mountains 33-35°
The remainder of the week Friday looks cloudy and continued cold with light rain showers valley & mountains – Highs generally in the 40's both mountain and valley – lows generally 30's. The weekend looks milder with highs in the 50's valley and upper 40's mountains.
Breaking news, breaking weather, whatever the case, we'll have it here.
Have a great Tuesday!
Know your Nelson.COM
-T-