REFRESH Nelson County Life Magazine HERE for the latest updates:
Weathercast by Tommy Stafford, Nelson County Life Magazine
AUDIO VERSION OF FORECAST (some users may need to click play button twice)

Photography by Ann Strober
For Nelson County Life Magazine : © 2007
Approaching Storm
Nellysford, Virginia

Saturday was a fairly sunny day with high thin clouds streaming in advance of our next weather maker. Overnight Saturday into Sunday expect clouds to form. We have a shot at some mixed precip mountains early Sunday if some of it makes it here from the midwest, but the best shot for rain is late Sunday. As the next system approaches warmer air will pump into the area allowing temps to warm enough for it to all change to rain. But again we can't rule out some freezing rain upon the BRP and Wintergreen. I'll be watching this over the next 24-36 hours as the system approaches. Right now the air is so dry (that's the dewpoint) so whatever moisture that gets here will take awhile to start falling to the ground. It's kind of like a sponge when it's dry, takes a bit for it to get saturated.
By Sunday afternoon rain should begin falling over much of the area continuing into Sunday night. By Sunday night a developing low pressure area off of the coast combines to create some very high winds into the day Monday. Just to our west high wind watches have been posted. We may see them issued here sometime over the weekend. But regardless look for 35-40 MPH winds Sunday night into Monday before diminishing by Tuesday.
Next week cold temps hang in there with a chance again for possible mountain snow by midweek.
The National Current Surface Map via wunderground

Over the next 24 hours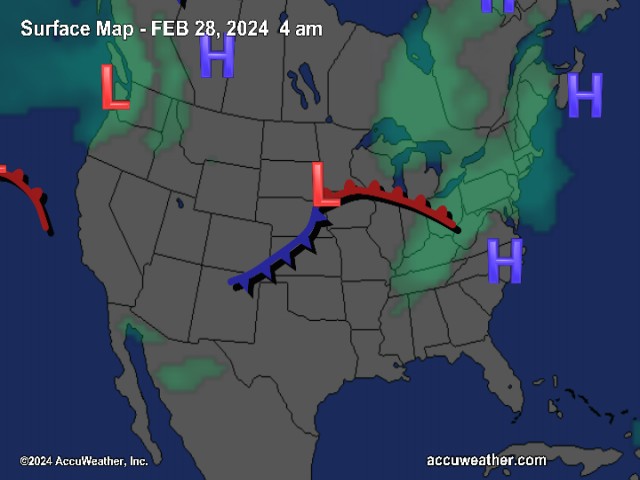 Regional Radar look via Wundergound.com

And for those of you keeping score at home check the detailed numbers below at any of our reporting NCL-Weathernet Stations for real live weather data and detailed information including highs, lows, rainfall and much, much more.
*NCL-Nelson County Life Magazine : Greenfield / Afton, VA
*NCL-Wintergreen Nature Foundation : Devil's Knob, VA
*NCL-Wintergreen Winery @ the foot of Wintergreen Mountain in Beech Grove, VA
*NCL-Hatcreek Farm on Horseshoe Mountain : Roseland, VA
*NCL-Delfosse Winery & Vineyard : Faber, Va
*NCL-Tiger Fuel : Lovingston, VA
*NCL-Mini Tara Vineyards : Arrington, VA
*Covesville Store : Covesville, VA
Your Nelson County Life custom weekend forecast including: Nellysford, Lovingston & Wintergreen Resort
*Saturday night Becoming cloudy late with light rain possible in the morning, possibly freezing rain & sleet mountains. – Low near 32° valley – around 29° mountains
Winds: Light E becoming S-5 MPH by daylight
Sunday Rain developing in the afternoon, winds increasing late afternoon into early evening.
* Highs Valley: 46-49°
*On the mountains: 43-45°
Winds: SW 10-15 MPH with higher gusts by afternoon
Sunday night Rain continuing, winds increasing becoming very windy overnight with gusts to near 40 MPH by morning.
* Lows Valley: 42-44°
*On the mountains: 33-35°
Winds: SW 15-25 MPH early with higher gusts overnight
Monday Showers ending, sunny by afternoon, very windy with falling temps in the afternoon.
* Highs Valley: 47-50°
*On the mountains: 36-39°
Winds: W 15-25 MPH with gusts to near 40 MPH
By Monday night skies remain clear with gusty winds from time to time and temps in the upper 20's valley to lower 20's mountains.
Chances for snow in the mountains returns by mid-week with cold temps for most of the week. Highs generally low and mid 40's valley and low 30's mountains. Overnight low very cold with mid to upper 20's valley and around 20° mountains.
Breaking news, breaking weather, whatever the case, we'll have it here.
Have a great rest of the Weekend!
Know your Nelson.COM
-T-