REFRESH Nelson County Life Magazine HERE for the latest updates:
Weathercast by Tommy Stafford, Nelson County Life Magazine
AUDIO VERSION OF FORECAST (some users may need to click play button twice)

Photography courtesy Wintergreen Hardware
For Nelson County Life Magazine : © 2007
Bobcat @ Wintergreen
Wintergreen Mountain, Virginia

We're back in the saddle today. We've been gone over the past few days doing weather from the road over the Thanksgiving holiday. Before getting started, I just have to comment on this today's weather photo sent to us by Lyna Watson down at Wintergreen Hardware in Nellysford. This is a shot her friend Craig, (sorry Craig can't remember you last name) got over Thanksgiving up at Wintergreen. Yep folks, that is a bobcat! Not a bad shot. Thanks Craig and Lyna for sending that one on to us!
Not to worry today, no bobcats in the forecast. After a nice rainfall Monday, better weather is in the mix today. After a lingering morning shower or two with some passing clouds, we'll see mostly sunny skies and fairly mild conditions, thought it will be windy from time to time, and slowly falling temps by late in the day. By midweek overnight temps cool to near seasonal normals. The next chance for rain right now is roughly Sunday when we could see snow showers as well. There is a slight chance of showers Wed night into early Thursday, but I think that system will be mainly dry at this point.
The National Current Surface Map via wunderground

Over the next 24 hours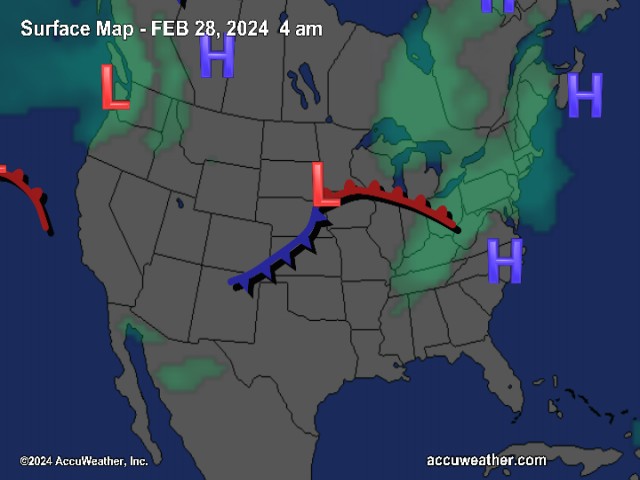 Regional Radar look via Wundergound.com

And for those of you keeping score at home the numbers as of 9:00 PM last night.
*NCL-Nelson County Life Magazine : Greenfield / Afton, VA
Monday High: 56.1°
0.18″ of rain
*NCL-Wintergreen Nature Foundation : Devil's Knob, VA
Monday High: 57.6°
0.27″ of rain
*NCL-Wintergreen Winery @ the foot of Wintergreen Mountain in Beech Grove, VA
Monday High: 55.6°
0.14″ of rain
NCL-Hatcreek Farm on Horseshoe Mountain : Roseland, VA
Monday High: 52.0°
0.35″ of rain
*NCL-Delfossee Winery & Vineyard : Faber, Va
Monday High: 57.0°
0.35″ of rain (estimated – rain gauge out of service)
*NCL-Tiger Fuel : Lovingston, VA
Monday High: 52.5°
0.40″ of rain
*NCL-Mini Tara Vineyard : Arrington, VA
Monday High: 51.4°
0.31″ of rain
Your local forecast including: Wintergreen, Greenwood & Shipman
*Today Early morning clouds then mostly sunny by afternoon, windy.
*Valley : High 58° slowly falling in the afternoon
*On the mountains above 2000 feet along the BRP, Montebello, Wintergreen, Devil's Knob, and Love. Mostly sunny & breezy.
Highs around 50° slowly falling temps afternoon
Winds: NW 10-20 MPH with gusts to near 30 MPH
*Tonight Clear & colder.
*Lows valley: 30°
*On the mountains: around 23°
*Winds: SW-5 MPH
Tomorrow Sunny & fair.
* Valley: 52-55°
*On the mountains: 45-48°
Winds: SE around 5 MPH
*Tomorrow Night Partly cloudy early, becoming mostly cloudy – Low 35° valley – around 28° mountains
Winds: SW around 5 MPH
The remainder of the week skies are generally clear until we reach the end of the weekend when showers are possible Sunday, with a chance of snow Sunday night. High temps range from the 50's in the valley to 40's in the mountains. Overnight lows around 30° valley in the low & upper 20's mountains.
Breaking news, breaking weather, whatever the case, we'll have it here.
Have a great Tuesday!
Know your Nelson.COM
-T-