REFRESH Nelson County Life Magazine HERE for the latest updates:
Weathercast by Tommy Stafford, Nelson County Life Magazine
Photography by Ken Harris
For Nelson County Life Magazine : © 2007
Christmas Trees Arrive
a.m. FOG
Afton, Virginia

Updated 3:40 PM EST 11-24-07
You know it's getting colder when you see scenes like the one above in the weather photo sent to us by Ken & Yvonne Harris at a.m. FOG in Afton. Ken says they unloaded all of their Christmas trees on Friday. Don't you just love this time of year!
We're still doing weather from the road this weekend on a trip back into Western Tennessee near Memphis.
Friday night was the coldest night yet. Temperatures dropped into the teens in the valley and mid teens mountains. Up at Wintergreen Resort they started making snow Friday afternoon. See associated story and pics by clicking here. Saturday was a fairly chilly day across Nelson, with valley temps only making it into the 40's for afternoon highs and on the mountain our NCL-Wintergreen Nature Foundation station made it up to a high of 33° around 11:20 AM Saturday morning. Their morning low was a very cold 15°. Saturday night look for clouds to increase and temps to not be as cold at Saturday morning's. Sunday we'll see some breaks of the clouds but I expect more clouds than sun in advance of the next system moving our way bringing rain Sunday night into Monday night. We are seeing signs of the same system here in Western TN right now. Sleet Saturday morning, as the system moves east toward Nelson rain will develop late in the weekend. I still cannot rule out some frozen precipitation on the mountain as the rain begins, but warmer air will begin moving in by Monday morning changing to all rain.
Temperatures moderate a bit for the first part of the week, cooling slightly again by mid week.
The National Current Surface Map via wunderground

Over the next 24 hours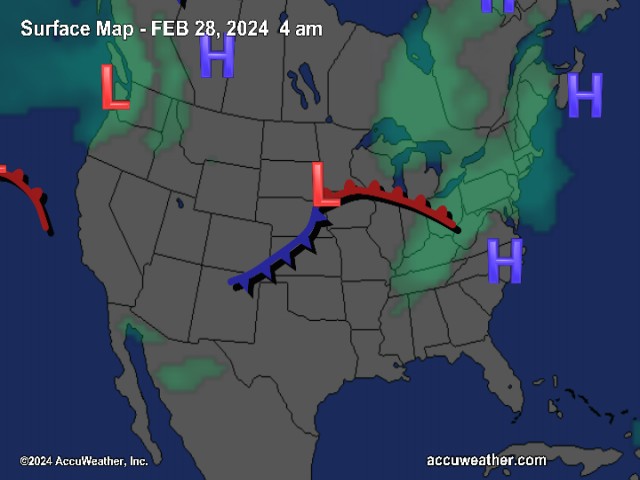 Regional Radar look via Wundergound.com

And for those of you keeping score at home simply click on any of the hyperlinks below to get real live time weather conditions from the NCL-Weathernet Stations. You can look at lows, highs, rain amounts and much, much more! You can also use the handy drop down menu on the upper left hand side of your screen to navigate to any of the stations in the NCL network.
*NCL-Nelson County Life Magazine : Greenfield / Afton, VA
Saturday morning's low: 17.1°
0.00″ of rain
*NCL-Wintergreen Nature Foundation : Devil's Knob, VA
Saturday morning's low: 15.3°
0.00″ of rain
*NCL-Wintergreen Winery @ the foot of Wintergreen Mountain in Beech Grove, VA
Saturday morning's low: 18.3°
0.00″ of rain
NCL-Hatcreek Farm on Horseshoe Mountain : Roseland, VA
Saturday morning's low: 19.2°
0.00″ of rain
*NCL-Delfossee Winery & Vineyard : Faber, Va
Saturday morning's low: 24.6°
0.00″ of rain
*NCL-Tiger Fuel : Lovingston, VA
Saturday morning's low: 19.2°
0.00″ of rain
*NCL-Mini Tara Vineyard : Arrington, VA
Saturday morning's low: 16.3°
0.00″ of rain
*Covesville Store : Covesville, VA
Saturday morning's low: 26.6°
0.00″ of rain
Your local forecast including: Afton, Colleen, & Greenwood
*Tonight Becoming cloudy and not as cold.
*Lows valley: near 24°
*On the mountains: around 22°
*Winds: SSW 5-10 MPH
Sunday Partly sunny early, becoming mostly cloudy.
* Valley: Near 47°
*On the mountains: 42-45°
Winds: SW 8-12 MPH
*Sunday Night Cloudy with rain developing – Low 37° valley – around 34° mountains. Rain chance: 50% by early Monday morning.
Winds: SW 3-5 MPH
As mentioned, we might see a little frozen precip on the mountain overnight Sunday changing to plain rain by Monday morning. This does not appear to be anything to worry about at this time.
Rain continues Monday into Monday night with temps in the upper 50's to lower 60's valley and mid to upper 50's° mountains.
Breaking news, breaking weather, or even if it's not broken , we'll still have it here.
Have a great Weekend!
Know your Nelson.COM
-T-