REFRESH Nelson County Life Magazine HERE for the latest updates:
Weathercast by Tommy Stafford, Nelson County Life Magazine
NEW! AUDIO VERSION OF TODAY'S FORECAST

Photography by Elaine Weems
Nelson County Life Magazine – Copyright 2007
Butterflies @ Rodes Farm
Nellysford, Virginia

"It's that time of the summer…the Joe Pye weeds are blooming and attracting the the Tiger Swallowtails.
Thought you may like a photo."
NCL's own, Paul Purpura, captured a great shot of them early this month too. Never get tired of seeing them. Thanks Elaine!
Wow! What happened to the sunshine I predicted yesterday. Remember it's a prediction! I touched on this a little bit in my Monday afternoon update But we had scenario set up that's called damming. It's very similar to Cold Air Damming in the winter. Cold air damming occurs when a shallow cold air mass is funneled across the earth's surface due to topography. Cold air is dense and stable and thus it resists flowing over elevated terrain unless the cold air mass is deep or the forward momentum of the air mass is strong. (Thanks to www.theweatherpredicton.com) When that air mass is very moist like yesterday's it essentially forms fog / clouds up against the Blue Ridge Mountains in this case. We had light NNE breezes Monday with ample moisture banking against the mountains. On the west side of the Blue Ridge they had partly cloudy to sometimes mostly clear skies for part of the day. We just could never get enough dynamics in place to get it cleared. As you can see from the temperature at TWNF on the mountain, they were actually warmer than most valley locations.
Below (courtesy weatherunderground.com) is a screen snapshot I took of the satellite image over our area around 2-3PM. The yellow dot is Afton in the NW corner of Nelson County. Look at the Blue Ridge Mountains in that shot along and near the yellow dot. On the east side of the range in the valley, clouds, to the west, partly cloudy. A perfect example.

This time of year it means nothing more than clouds and cool temps. It generally occurs in the winter and can set up for terrible ice storms in these parts. Thankfully we have a few more months before that can happen! We didn't get to see the sun, but it was nice for a change to have some cool weather for a day.
Tuesday could turn out to be much like Monday in parts of Central Virginia. A warm front is slowly meandering back to the north across our area. All day Monday we were on the north side of that front. Depending on how much progress it makes today depends on how much, if any, clearing we get. If it slides well north we may see some sun between scattered thunderstorms.
Today will be the last time I include Hurricane Dean in my morning cast unless he does something dramatic like making a right hook and heading for the Gulf Coast. Otherwise you can see below Dean is going west into Mexico.
Latest animated loop of the Atlantic and Dean:

Here's the latest tracking map:

I am watching another area of disturbed weather way out in the Atlantic.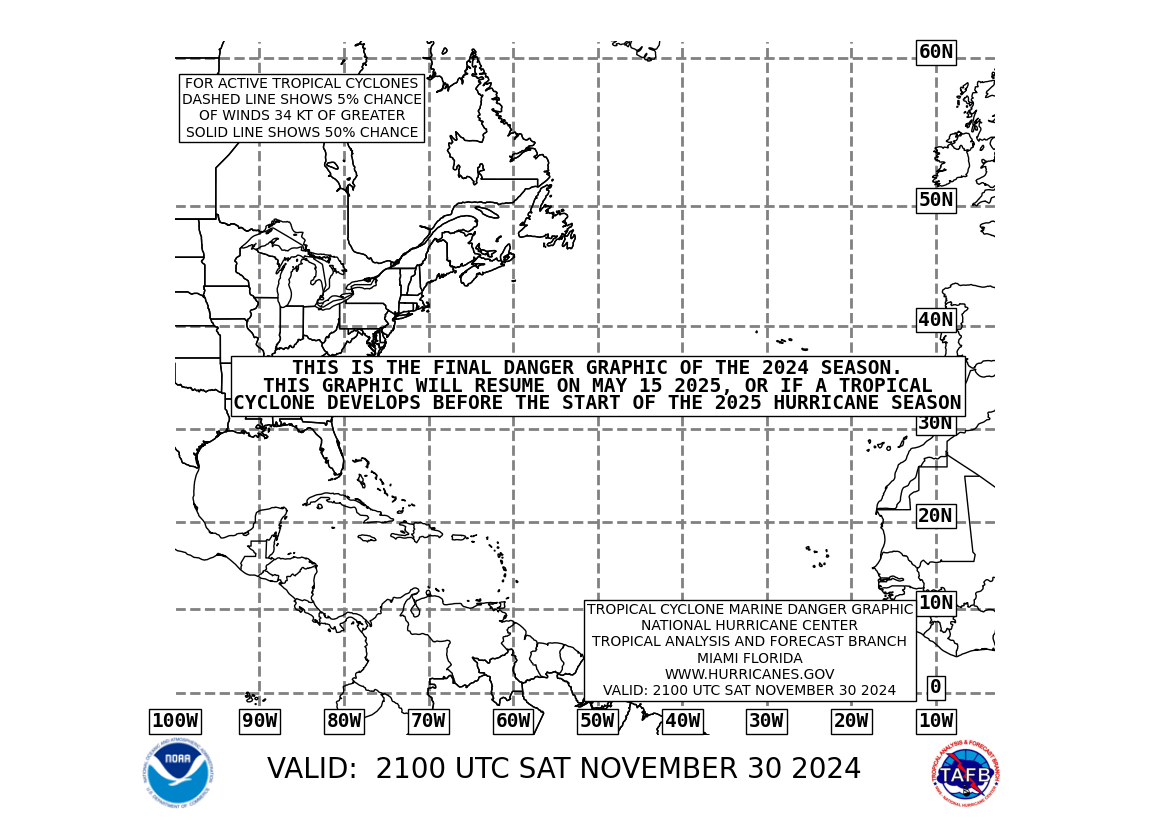 Right now this is nothing more than an area of low pressure, but it bears watching over the next several days. This could easily form into a tropical depression soon, I'll keep you posted.
The numbers as of 11:59 PM EDT Monday night
*NCL-Nelson County Life Magazine : Greenfield / Afton
Mon High: 71.8° @ 12:43 AM (note: high temp was just after midnight)
0.14″ of rain
*NCL-Wintergreen Nature Foundation : Devil's Knob
Mon High: 81.9 ° @ 2:24 PM (near high temperature for the immediate Nelson area)
0.10″ of rain
*NCL-Wintergreen Winery @ the foot of Wintergreen Mountain in Beech Grove
Mon High: 71.4° @ 5:05 PM
0.00″ of rain
*NCL-Delfosse Vineyard & Winery near Hickory Creek : Faber
Mon High: 71.6° @ 5:31 PM
0.08″ of rain
*NCL-Tiger Fuel – Lovingston
Mon High: 77.2° @ 4:20 PM
0.02″ of rain
*NCL-Mini Tara Vineyards – Arrington
Mon High: 82.2° @ 3:59 PM
0.00″ of rain
*Alternate: Non NCL site : Warminster-Wingina
Mon High: 78.9° @ 4:29 PM
0.00″ of rain
Here are other area rainfall totals via Nelson County Flood System Reporting stations.

A warm front continues to work its way northward through Virginia. As the day progresses southerly winds and more humidity will prevail. A series of disturbances will ride along the front providing chances for storms off and on today.
Current-Sat Surface Map

The National Forecast Map has the front in our vicinity until roughly Wednesday night or Thursday when it will wash out. Southern high pressure will take over and keep the remainder of the week quite hot and humid through the weekend.
Today's Forecast Map

Local forecast
*Tuesday Partly to mostly cloudy. Showers with embedded thunderstorms across 70% of the area.
*High temps in Nellysford, Crozet & Colleen around 83°
*On the mountains above 2000 feet along the BRP, Montebello, Wintergreen, Three Ridges, Devil's Knob, and Love, Mostly cloudy with showers and isolated thunderstorms.
Highs top out around 78°
Winds SW 5-10 MPH becoming northerly in the afternoon.
*Tuesday night Mostly cloudy a 50% chance of showers early, then additional showers after midnight.
*Lows valley around 65°
*On the mountains overnight low near 62°
*Winds N-5 MPH
Wednesday Mostly cloudy with widely scattered thunderstorms across 30% of the area.
*Highs valley around 85°
*On the mountains around 83°
Winds: N around 5 mph – becoming E around 5 mph in the afternoon.
*Wed night: Cloudy. Lows generally in the low 60's valley and upper 60's mountains.
Remainder of the week Look for partly sunny skies Thursday with hot temps back in the lower 90's. The remainder of the week looks to be hot with minimal chances for rain and high temps in the low & mid 90's valley and mid to upper 80's mountains. Next chance for rain looks to be Sunday.
When severe weather or news breaks out, come here. We'll have all of the latest watches, warnings, and coverage affecting Nelson County, Wintergreen, and nearby counties.
Have a great Tuesday!
Know your Nelson
-T-